About Us
With the help of a robust infrastructural unit, we,
Mastek Systems
, are able to produce a wide range of qualitative products for our customers. Our offering includes
STP Pump Motor Assembly, Single Stage Air Compressor, Pump Control Box, Petrol Filling Nozzle,
etc. Apart from being a renowned
manufacturer
and
supplier
of the mentioned products, we are a
service provider
of
Repairing Service of Swivel Joint, Air Gauge, Digital Air Gauge, Air Compressor,
etc. Our company has a reliable market image and to earn the same, we have worked very hard. We promise that the trust of customers will never be affected due to any of our actions.
We actively participate in workshops and seminars that help us improvise our skills and knowledge. Our company also goes through the reviews given by clients to identify the weak areas and take immediate steps as per the same. It is the working approach of our company that sets us apart from other entities. We are happy to reach the zenith of success and will continue to give our cent percentage to maintain the same market reputation.
Customer Satisfaction
We practice client-driven policies that are transparent and without any hidden agenda. In addition, we carry out our business operations, considering the prospect of buyers. Even the price structure set by our enterprise is made respecting the budget of esteemed clients.
Right from the year of establishment, we have been able to make customers happy because of qualitative offerings and impressive working approach. In all our active years, we will continue to delight customers and attain their satisfaction.
Our Team: Our Backbone
Just like a backbone enables a human body to be in an upright position, our team also enables our organization to stand tall in the competitive market. It is totally fair to call our workers the real heroes behind our success. With their support, dedication, skills and talent, we are able to manufacture
Petrol Filling Nozzle, Pump Control Box, Single Stage Air Compressor, STP Pump Motor Assembly
, etc., for customers. Some key members of our team include:
Procuring agents
Manufacturing professionals
Quality inspectors
Sales and marketing professionals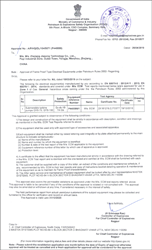 Read More